Features of Pure Washer
Pure washer has four basic functions to make the air environment safe and comfortable.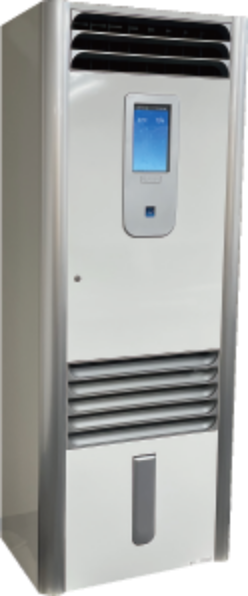 1.Humidification
2.7L humidification per hour to humidify the air in the room.
2.Air sterilization
It suppresses airborne viruses by 99%
The caught airborne virus and airborne bacteria are decomposed with the power of slightly acidic electrolyzed water.
3.Deodorize
Water mist adsorbs and sterilizes odor components in the machine.
4.Air purifier
It also removes impurities in the air that cause allergies such as pollen and house dust.
Advantages of Pure Washer
Coverage
One unit can cover a large space with a floor area of approximately 200㎡ (the size of one tennis court), and its effect spreads throughout the large interior space.
Surface sterilization by slightly acidic electrolyzed water
In addition to sterilizing the air, the double approach of slightly acidic electrolyzed water can be used to properly take measures against bacteria and viruses.
Easy maintenance
The only maintenance that is required by the purchaser is to clean the filter and replace the chemical cartridge. The maintenance company certified by the manufacturer will take responsibility for other maintenance requirements.
Suitable places for installation
The Pure Washer, which has excellent air purification and humidification capability in large spaces, is suitable for companies, dining rooms, halls, lobbies, etc.